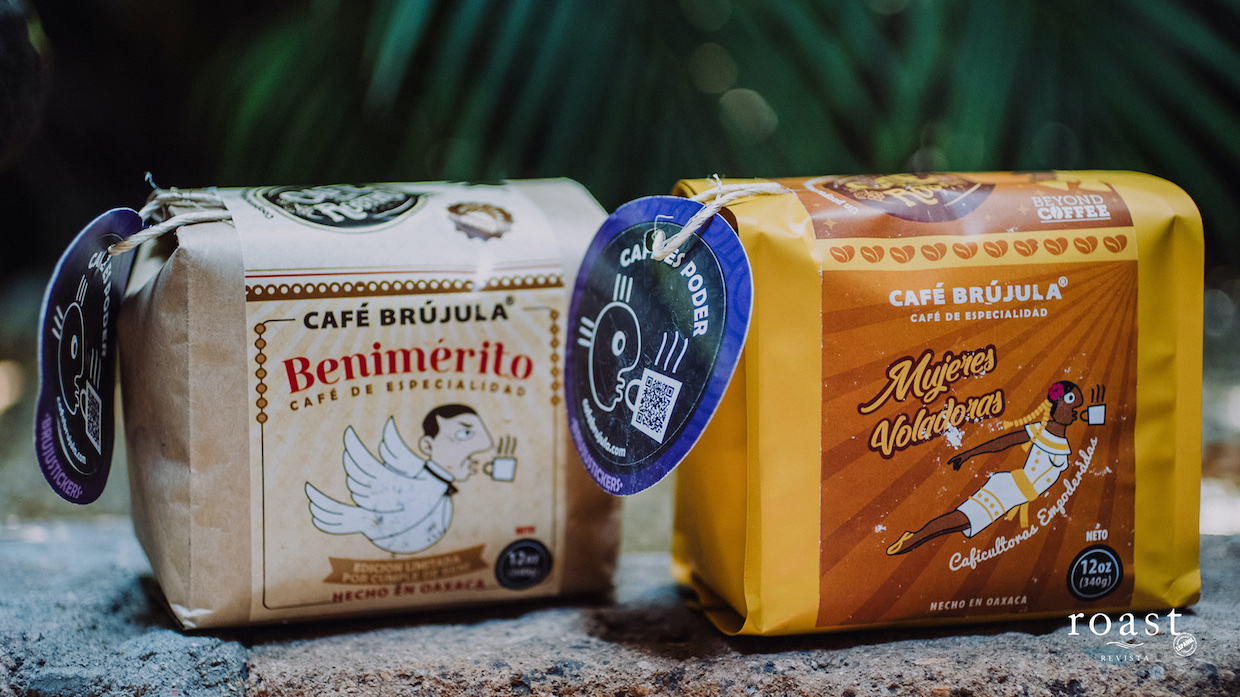 In its various coffee series, the Oaxacan specialty café Café Brújula had already demonstrated its impetus, creativity and design to promote the consumption of local products based on fair trade, traceability, sustainability and, above all, dignity. of the work and wisdom of coffee producers.
On this occasion, he presents "Flying Women", a series of specialty coffee that goes on sale today (May 10) and that recognizes the fundamental role of Oaxacan coffee growers and invites us to know – and savor – the journey in the that these women have learned to spread their wings, to learn to use them and to take flight.
Twenty coffee growers from the Sierra Oaxaqueña joined this project and began a journey in which they showed their collective strength, wisdom and enthusiasm; In exchange, Café Brújula organized training and workshops on specialty coffee processing control, cupping and physical analysis of green coffee, as well as good practices in the processing of special coffee. Its purpose was to be able to communicate to them the real value of their product and of themselves in the coffee value chain and in their community, because, as Berenice Barragán, founder of Café Brújula comments: "in knowledge is power".
And they were not alone. "Flying Women" is also the result of a successful partnership between Café Brújula and the Beyond Coffee program of the non-governmental organization Heifer México, with whom they share ideals and values. This program seeks to diversify the productive activities of coffee growers with complementary agricultural products and activities, and thus, at the same time that these twenty coffee growers learned to process and benefit special coffee, they also received workshops on family economics and care on raising chickens. and egg production. Each producer received 20 chickens and material to build chicken coops, the slogan is to care for and reproduce their chickens, help someone else in their community to do so, and thus create a virtuous and local production cycle.
Months and a harvest later, twenty powerful coffee growers knew their product, the properties of their terroir, the taste of their coffee and the price they should expect for the quality of the fruit of their land and their work, in addition to the great work they do. not only as agricultural producers, but as a support for agriculture, the economy and the local community. These women created microlots of exceptional quality (+84 SCA points) and recognized their different qualities as well as their processing method. They are even wiser women than before, stronger women in the face of the onslaught of low coffee prices, intermediaries or large corporations. They are women who, like Café Brújula, now know that "coffee is power".
Perhaps they do not yet know that UN Women has empirical data that shows that by increasing the proportion of income controlled by women as a result of their work or transfers, "spending patterns change in ways that benefit daughters and sons. Equally, which allows for greater access to education for women and girls, and contributes to greater economic growth, lower infant mortality rates, greater equality and a better quality of life. But they certainly know that their community is their strength and that Café Brújula is an ally in their empowerment and in the redefinition and recognition of their work, wisdom and strength. The rest is a matter of flying.
Imagine a cup of coffee with sweet, juicy notes; savor tropical and exotic fruits. Now imagine a coffee farmer carefully selecting her seeds, performing new processes, teaching another producer how to do it. If you look closely, it's not one, not two, it's 20, maybe more. Get a little closer, can you see all those women flying?
Learn more about this project and continue supporting the "Flying Women" of Café Brújula at https://cafebrujula.com/
---
This story originally appeared in Roast Magazine online. Roast Magazine is the bi-monthly technical magazine dedicated to the success and growth of the specialty coffee industry.
Related Reading
Aida Palomo
Translator and internationalist. Founding partner of Paideia. Language professionals.
Source link